An Inspirational Visit from Jon Steinman, Author of Grocery Story
Food co-op evangelist and author,
Jon Steinman
shared tidbits of wisdom and encouragement to a packed audience of students and community members at
Pacific University
on October 19, 2022.  Hillsboro Food Co-op organized the event to spark encouragement among current and prospective owners as the co-op builds momentum towards opening day. Steinman's presentation reinforced that grocery co-ops profoundly benefit the communities they serve.
Steinman personalized his presentation to both Washington County shoppers and college students. He underlined that 
students 
founded many co-ops in the 1970s, including 
People's Food Co-op
in Portland, OR. Hillsboro Food Co-op is one of 91 start-up grocery co-ops in various stages of development between the U.S. and Canada. Steinman's 
food co-op directory
 features a map of the 91 start-ups and 327 established co-ops.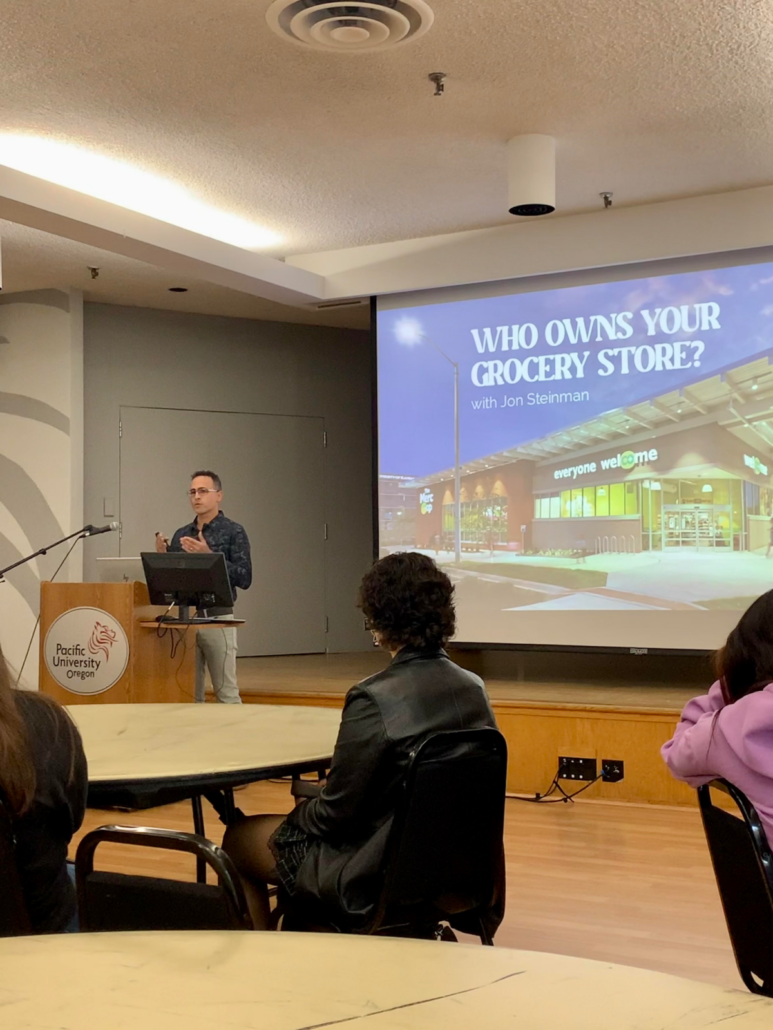 During the presentation titled "Who Owns Your Grocery Store?" he gave powerful visuals like, "Imagine the Safeway delivery truck driving away from the store [after delivering food] with all the profits to take them elsewhere—out of the community."
The food co-op model keeps profits in the community unlike Kroger (Fred Meyer's parent brand), headquartered in Cincinnati, OH; Safeway (a subsidiary of Albertsons), headquartered in Boise, ID; and New Seasons, owned by a South Korean company. Steinman describes the 5 largest U.S. grocers as gatekeepers shaping the future of food.
He went on to talk about how major grocers place restrictive covenants on building use meaning that even if they decide to close a location, a grocery store of any kind could not occupy that space for 15-20 years and thus creating food deserts. A Bellingham Safeway was one example shared. These store closures typically happen in areas with large senior and low-income populations.
Food co-ops, however, are tailored to the communities they serve and have been known to remedy food deserts.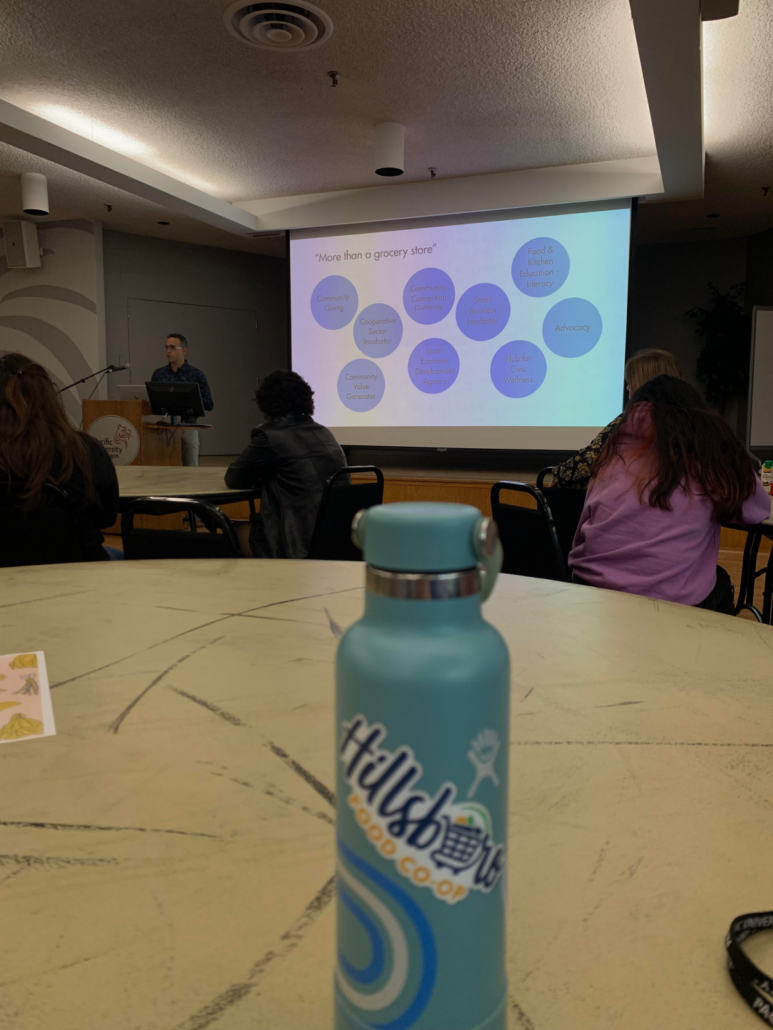 A slide titled "more than a grocery store" underscored how co-ops could support their communities with a list: community giving; cooperative sector incubator; community value generator; community connection (gathering); local economic development agency; small business incubator; food & kitchen education – literacy; hub for civic wellness; advocacy.
Kootenay Co-op
in Nelson, BC is Steinman's home co-op where he served as an elected director for 10 years. With a town population of roughly 10,000, Kootenay Co-op has garnered support from over 15,000 member-owners. Some of these member-owners live in nearby communities or vacation in Nelson. He shared the impressive story of Kootenay Co-op opening up shop in their second building. They convinced a building owner not to renew their lease to Loblaw–Canada's largest grocer–so the co-op could then purchase the building and land. Kootenay is now on the path to providing each of their 150 employees a livable wage and has pioneered a label featuring hyper-local food called 
"true local"
. Items that are grown or crafted within 160km of the store are eligible for the true local label. Kootenay Co-op also found a company making reusable pallet wraps and worked with their distributors to get them implemented.
For a deeper dive and more inspiration, Steinman's book,
Grocery Story
, published in 2019 peels back the complex layers of the food system in the U.S. and Canada and highlights successful food co-ops around the continent and why they positively impact communities more than a regular grocery store.
https://hillsborofood.coop/wp-content/uploads/image.jpg
841
1200
Chuck Underwood
https://hillsborofood.coop/wp-content/uploads/logo-white-800-300x128.png
Chuck Underwood
2023-01-04 19:57:42
2023-01-04 19:58:34
An Inspirational Visit from Jon Steinman, Author of Grocery Story